The InsuranceAsia News (IAN) insurtech profile series provides readers with exclusive insight into the digital disrupters changing the face of the industry across the region.
By Andrew Tjaardstra, 13 January 2021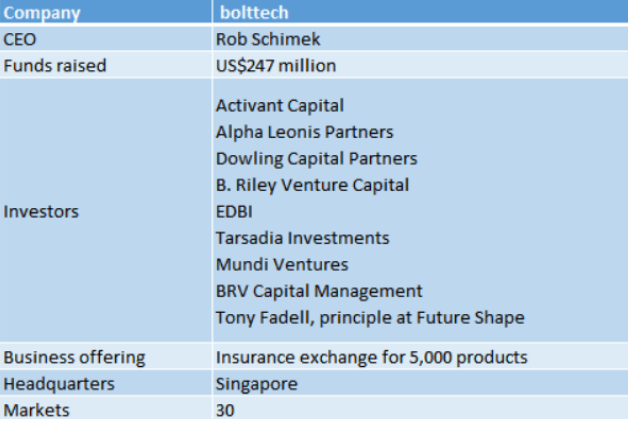 Launched in 2020, bolttech is a fast-growing international insurtech with roots in Asia and part of Hong Kong's Pacific Century Group.
It has built the world's largest insurance exchange with over US$5 billion in premiums and offers over 5,000 insurance products to more than eight million customers. The exchange has over 700 distribution partners and 150 insurance providers on the platform.
In Asia, bolttech has worked with super apps such as Rabbit LINE Pay in Thailand and PayMaya in the Philippines, e-commerce giant Lazada, financial services firm Home Credit, in addition to tech players Samsung and LG U+.
During 2022 the firm is planning to continue to build out partnerships across the region.
In the Philippines it is working with PayMaya, the country's second-largest digital wallet, to offer a device protection product. It has since expanded the partnership to offer a range of microinsurance products including for Covid-19 cover through bolttech's insurance exchange on PayMaya's app and is launching a personal accident product. The insurtech is also exploring ways to offer segment-based push notifications, retargeting tactics and enhanced financing options built into the user experience (UX).
To date, bolttech has raised over US$240 million. Last July, bolttech closed an oversubscribed Series A round of US$180 million. The round was the largest ever Series A for an insurtech globally, valuing the firm at over US$1 billion and giving it unicorn status. And in September 2021 it raised another US$30 million.
Growth factor
The firm said it is planning to use the additional capital to accelerate growth and strengthen its technology capabilities as it expands internationally.
Organic growth at the insurtech is set to come through enhancing its partnerships in more markets – for example in South Korea with LG U+ and with CK Hutchinson in Ireland, Italy and Austria, in addition to Hong Kong, India, Indonesia, Thailand and Vietnam.
Elsewhere bolttech's device protection partnership with Samsung has recently added six more countries in Europe, helping to bring bolttech's global presence to 30 markets.
Acquisitions are also an important part of the strategy, particularly in Asia where the focus is on strengthening capabilities and licenses across the region by acquiring more broker licenses.
"We are in talks to obtain more broker licences in Asia in 2022 – including in Singapore. We also want to expand in Malaysia and the Philippines," Rob Schimek, bolttech's chief executive told IAN.
The US is another important market where the insurtech is looking to invest. "The US is a great market for us and we can operate across 50 states with a broking license. In addition to insurance firms, we can work with non-insurance companies to help them cross-sell insurance across the country. For example, we are working with one of the largest real estate firms to link their customers to general insurers and their products," said Schimek.
This year is set to be another busy year for the fast growing firm which is looking to shake up the industry.
Read the profile on IAN here: https://insuranceasianews.com/insurtech-profile-bolttech/